Get pumped!  Our Summer 2012 Workshop Series is very solid and we are excited to share it with you all!
All workshops are one week long and will take place between 4-5PM at the Music Resource Center. Workshops are open to all rising 6th-12th graders and are FREE with an MRC Membership. Unless otherwise noted (*), no previous experience is needed and all equipment will be provided. E-mail musicresourcecenter@gmail.com or call 434-979-5478 to sign-up.
——————————————————————————
Hip-Hop Dance with Ike Anderson: July 9- 13, 4-5 PM
Self-proclaimed as "Charlottesville's very own Demi-God of Dance", Ike is a former MRC member who is now on staff specializing in dance and hip-hop production and instruction.  He has choreographed and participated in several plays and musicals in the area.  Last summer, he choreographed Zombie Prom for LiveArts.  Most recently, he has choreographed How to Succeed in Business Without Really Trying at Charlottesville High School, and is currently a cast member in Hairspray at LiveArts.  Come to his workshop to learn the basics of hip-hop dance and choreography.
A Capella & Beatboxing with Nicole Ziemann:     July 16-20, 4-5 PM
Nicole is a UVa music and psychology major and the Music Director of the a cappella group CHoosE. She is also interning at the MRC for the summer.  During this workshop, Nicole will teach students how to turn the sounds of instruments into syllables that can be sung.  There will be various improvisation and rhythmic exercises to help with the placement of syllables and notes together.  Students will also get a brief introduction to beatboxing.
Tech Week: July 23-27, 4-5 PM
Featuring Matt Henderson, Rodger Pinto, John Mingsley, and Chris Munson
All week, students will learn from industry professionals about different aspects of technology in the music industry including audio engineering, live sound, electronics, DJ'ing, and beat production.
Matt Henderson, better known as DJ Mudita, has been playing house parties and clubs in Harrisonburg and Charlottesville for the last year.  In his workshop, he will be showing students how to mix music based on song structure to create a free-flowing sound - join him in his workshop on his mission to help put the Cville DJing scene on the map!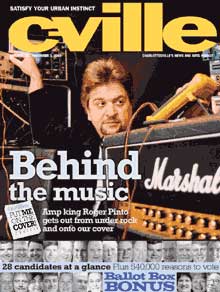 Roger Pinto is the go to guy for amp and electronics repair in Charlottesville.  His resume reads like a who's-who of musicians and companies he's worked with including Marshall Amps, Korg USA, Eddie Van Halen, ZZ Top, Dream Theater and many many more.  Visit his website here!
John Mingsley, AKA Ming Ming, has been experimenting with music since his days at Berklee.  He recently signed with Lefse Records and his working on his first full-length album.
Chris has been doing fine live audio, booking bands & promoting concerts in Charlottesville since 1980. Starting with a small local band he moved on to owning sound systems & being house engineer, booking and promoting shows at a local night club the Mineshaft. After that he went on to be house engineer at Trax for about 10 years and then touring with national acts such as Michelle Shocked & Delbert McClinton. Currently he operates a local booking agency 20 South Productions.
Jam Week* with Eli Cook: July 30- Aug. 3, 4-5 PM
This workshop is designed for students who know the basics of his or her instrument and are interested in learning how to improvise and jam with other musicians. All instruments are welcome in this workshop, but prior experience is required. Students will learn by jamming with professional musicians.
Eli is a local musician who has risen to national fame for his unique and contemporary styling of the blues.  He has released 5 albums to date, and has taken up permanent residence on the internet radio blues charts.
Be a Star – Create a Stage Show That Rocks! with Jeri Goldstein: Aug. 6-10, 4-5 PM
Jeri Goldstein, former agent and manager, now author and music business and performing arts consultant, provides valuable resources, instruction and consulting to those navigating their way to creating a successful performing arts touring career.  In her workshop, students will discover how to transform their music into a captivating stage performance.  Find out what makes a great artist, great, how to create your stage image, how to interact with your audience and band members, and how to design a show that is exciting for everyone.
Drums with Matthew Carter and Thomas Redpath: Aug. 13-17
Beginning Drums, 4-5 PM: No experience necessary! In this workshop, you'll learn basic exercises that will help you learn the rudiments of drumming and music theory. You will also learn about various parts of drum kit and how to care for and maintain a drum kit.
Advanced Drums*, 5-6 PM**: This workshop is designed for drummers who want to learn more advanced rhythms. Students will also learn proper set-up and mic configuration for recording drums.
Thomas is a Charlottesville native, currently volunteering at the MRC.  He developed a passion for music while playing the trombone in middle school and went on to play drums in a band with some high school friends and then guitar for most of college. A year ago, he graduated from James Madison University with a degree in physics. He intends to continue on to graduate studies in physics, but for now he's happy to be volunteering at the MRC!
Matthew is a former MRC member and currently works as a drum instructor and studio assistant at the MRC. Matthew regularly plays drums with several bands in the Charlottesville area; he is also a skilled pianist and choral director.
* Prior experience is required for this workshop.
** Advanced Drums will take place 5-6PM not 4-5 PM.